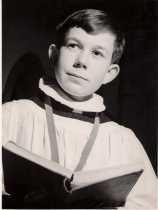 Neil as choirboy, c1967
I started piano lessons at the age of six, passed ABRSM exams up to grade 8 and studied piano with George Nicholson at York University. I started singing in a church choir at the age of 10 (see picture!) and attended two residential RSCM courses, from where I was selected to attend cathedral courses at Westminster Abbey and Norwich Cathedral. I was appointed organist and choirmaster of Holy Trinity Church, Rugby, at the age of 17 before I left school. I then sang with the University of York choir.

I joined the choir of St. Mary's Osterley in 1978 and was deputy organist for 20 years from around 1980. I joined Whitton Choral Society in 1997, and sometimes accompanied or conducted rehearsals for them. Following the death of the Director of Music in April 2009, I was appointed to that position. I conducted weekly rehearsals and directed three concerts a year, which sometimes involves professional soloists. In 2014 and 2018, I conducted joint concerts of Whitton Choral Society and Richmond Choral Society. I retired in summer 2022.

From 2007 to 2009, I sung with The Hythe Singers, a chamber choir based in Egham Hythe near Staines, Surrey and set up their web site for them. A composition of mine, "The first snow of the year" was performed by them at Christmas 2008, and I was sometimes asked to help them out by singing at their concerts. In August 2012, I conducted this choir at short notice at the Egham Royal Show.

Between 2007 and 2013, I sometimes sang with the University of London Church Choir and sang with them in Southwark Cathedral a number of times, at Lambeth Palace three times for the Archbishop's award ceremony, and at St. Alban's Cathedral.

During the late 1970s and early 1980, I conducted a very small madrigal choir which met in the front room of a house, and I have recently joined a house-based madrigal group. I also sing with Kingston upon Thames Madrigal Society, and conducted half of a rehearsal for them at short notice in December 2015 and was quest conductor for meetings in December 2019 and December 2021.

Once a year, from 2000 to 2004, I conducted an ad-hoc choir of 50-70 singers in St. Paul's Cathedral for the Mothers' Union London Diocese. In June 2015, I was asked to conduct the same service again, at quite short notice, and I also did it in 2016 and 2017. In 2004, I conducted a Hounslow Deanery combined choir for a service in Bath Abbey. In December 2006, I was asked to write a piece of music for a Hounslow Symphony Orchestra concert to celebrate the 150th anniversary of the church - I called it Sesquicentennial Fantasia.