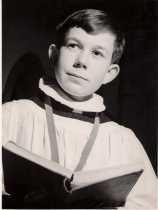 Neil as choirboy, c1967
I started piano lessons at the age of four, passed ABRSM exams up to grade 8 and studied piano with George Nicholson at York University. I started singing in a church choir at the age of 10 (see picture!) and attended two residential RSCM courses, from where I was selected to attend cathedral courses at Westminster Abbey and Norwich Cathedral. I was appointed organist and choirmaster of Holy Trinity Church, Rugby, at the age of 17 before I left school. I then sang with the University of York choir.

I joined Whitton Choral Society in 1997, and sometimes accompanied or conducted rehearsals for them. Following the death of the Director of Music in April 2009, I was appointed to that position. I conduct weekly rehearsals and direct three concerts a year, which sometimes involves professional soloists.

From 2007 to 2009, I sung with The Hythe Singers, a chamber choir based in Egham Hythe near Staines, Surrey and set up their web site for them. A composition of mine, "The first snow of the year" was performed by them at Christmas 2008, and I sometimes get asked to help them out by singing at their concerts. In August 2012, I conducted this choir at short notice at the Egham Royal Show.

I have also sometimes sing with the University of London Church Choir and sung with them in Southwark Cathedral many times over the last ten years, at Lambeth Palace three times for the Archbishop's award ceremony, and at St. Alban's Cathedral. I also sing with Kingston upon Thames Madrigal Society.

Once a year, from 2000 to 2004, I conducted an ad-hoc choir of 50-70 singers in St. Paul's Cathedral for the Mothers' Union London Diocese. In June 2015, I was asked to conduct the same service again, at quite short notice. In 2004, I conducted a Hounslow Deanery combined choir for a service in Bath Abbey. In December 2006, I was asked to write a piece of music for a Hounslow Symphony Orchestra concert to celebrate the 150th anniversary of the church - I called it Sesquicentennial Fantasia.