A set of consecutive notes with these names, and without accidentals is found in two places:
On a stave, without any modifiers
On the white notes of a piano.
The diagram below brings these two together by showing notes written on a stave with a treble clef at the start, immediately below the notes that they relate to on a piano keyboard: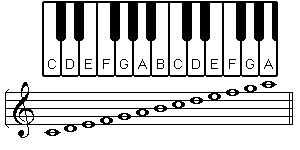 It can be seen from this diagram that the note "A" is always found between the second and third of a group of three black notes.

Some people like to teach or learn the names of the notes that lie on the lines or in the spaces of the two most common clefs. There are a number of mnemonics for the letters. These are only useful for someone who has learnt to play notes by name on an instrument; it is far better to learn the reasons behind the naming conventions.
When a stave has a treble clef at the start, the note names are as follows:



Every Good Boy Deserves Food/Favour
(FACE does not need a mnemonic!)

When a stave has a bass clef at the start, the note names are as follows:



Good Boys Deserve Favour/Food Always
A Cow Eats Grass